SADONNA
MIGUEL GUTIERREZ (New York)
OCT 4, 8PM
DICKENS PUB
SADONNA is exactly what it sounds like: sad versions of Madonna songs. In this music project, choreographer Miguel Gutierrez shows just how tiny the spiritual distance is between the international pop superstar, who grew up in Bay City, Michigan and himself, an international experimental itinerant artist who grew up in Colonia, New Jersey. Backed by the SLUTINOS, the Sad Latino Boys Backup Singers, SADONNA ekes out the melancholy cry for help hidden within Madonna's uplifting lyrics.


FLUID FEST LAUNCH PERFORMANCE + PARTY
Co-presented with Calgary Queer Arts Society and part of Springboard Performance's Signature Series.
ABOUT MIGUEL GUTIERREZ
Miguel Gutierrez lives in Brooklyn, NY. He creates dance-based performances, music and poetry that focus on desire, identity and the search for meaning. He is a 2016 Doris Duke Artist. His work has been presented in venues such as Centre National de Danse, Centre Pompidou, ImPulsTanz, Fringe Arts, Walker Art Center, TBA/PICA, MCA Chicago, New York Live Arts, Live Arts Bard, and the 2014 Whitney Biennial. He has received support from Creative Capital, MAP, National Dance Project, and Jerome Foundation and has received fellowships from the Guggenheim Foundation, United States Artists, New York Foundation for the Arts, Tides Foundation as well as a Foundation for Contemporary Art award and four NY Dance and Performance Bessies. He recently premiered This Bridge Called My Ass, a group performance that bends tropes of Latinidad to articulate new relationships to identity and form. It was presented by The Chocolate Factory as part of American Realness 2019. He currently performs a music project called SADONNA, where he turns Madonna's upbeat songs into sad anthems. He runs LANDING, an educational initiative at Gibney, and his book When You Rise Up is available from 53rd State Press. www.miguelgutierrez.org
JULY 4, 2019 - 7PM
Co-presented with PSi#25: ELASTICITY
Location: Riverwalk Plaza, East Village - 608 Confluence Way SE.
Meeting point outside the Simmons Building at 6:50pm.
Everything II is one immigrant's way of acknowledging the indigenous territory on which she dances.
In this solo work, the dance comes out of a negotiation between what the dancer carries and the surface on which she dances. Using Daoist ritual objects such as I-ching sticks, incense and spirit paper, the dancer creates a chance-operated environment that offers obstacles and openings around which she moves. Surrendering to the inherent nature of each object - the weight, the energy and the tasks attached to each of the objects - the body is called into a dance that connects the human body to the elements.
Embedded in the piece is both a personal as well as a public ritual of acknowledgment – of who we are and where we are.
ABOUT THE ARTIST
Lee Su-Feh is a dancer, choreographer, teacher, and dramaturge who has spent the last 30 years exploring the human body as a site of intersecting habits and histories. Born and raised in Malaysia, her early training began with a mix of traditional and contemporary South-east Asian dance and theatre. Since then, she has studied contemporary dance and theatre in Europe and North America with a variety of teachers and has along the way, developed a somatic approach to movement and voice deeply influenced by her lifelong studies in Chinese martial arts, Qigong and Daoism. Since 2010, she has been exploring the Fitzmaurice Voicework® in her practice; and is a certified Associate Teacher of the method.
Image credit: Artist Lee Su-Feh, Photography Yvonne Chew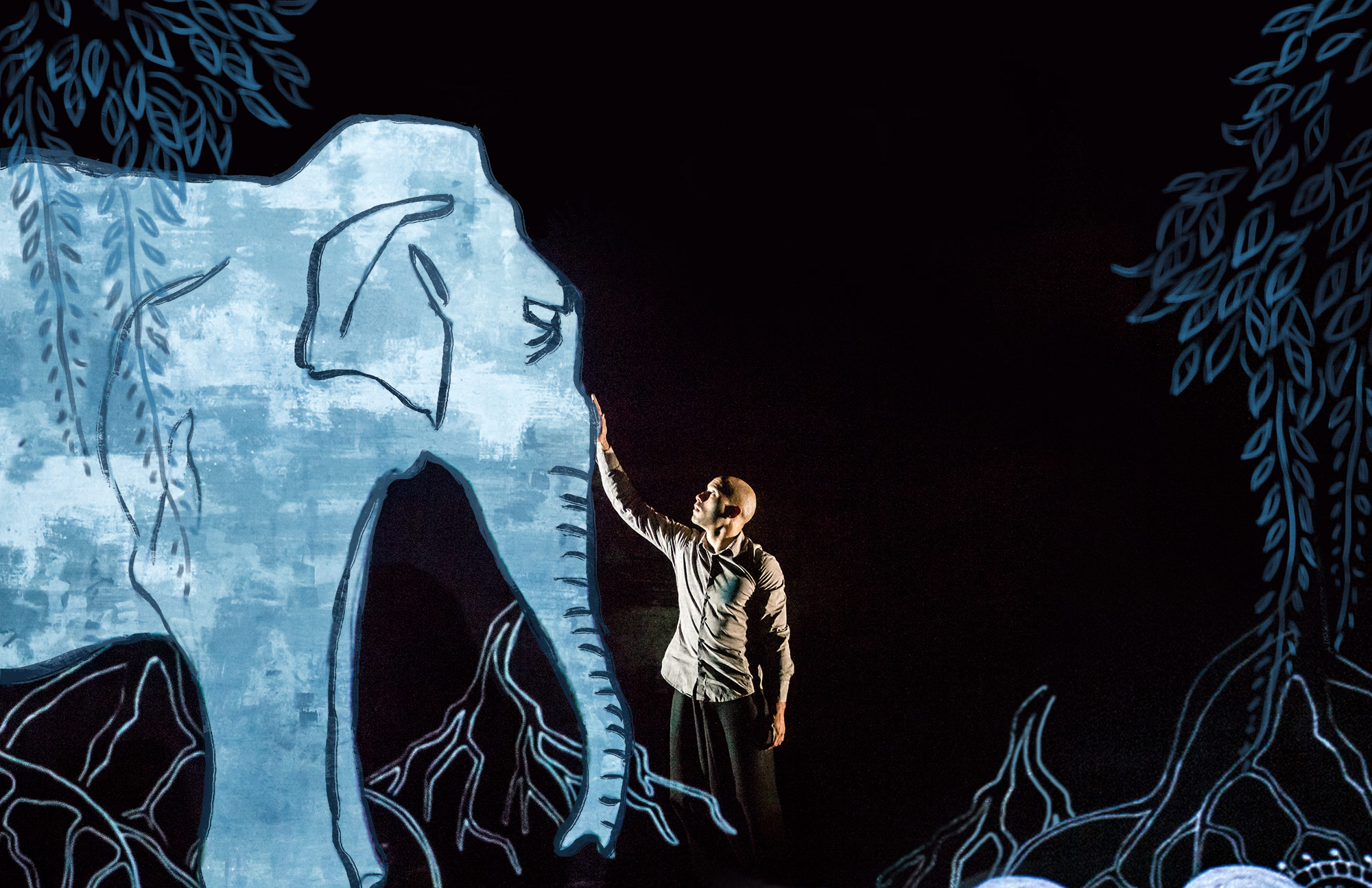 Springboard's Signature Dance Presentation Series, is an evolving endeavour aimed at bringing exceptional large-scale national and international touring dance to Calgary for all to enjoy.
Springboard Performance,
StoryBook Theatre and
Taylor Center for the Performing Arts present
AKRAM KHAN COMPANY
(London, UK)
NOVEMBER 14-16, 2018
at the Bella Concert Hall
A

m

ag

ic

al

and

th

ril

li

ng


dance theatre production
for children (ages 7+)
and adults to enjoy!
Running Time: 50 minutes, no intermission
Ages: 7+
Opening Night Reception on Nov 14
Artist Talk | Workshops
A magical mix of dance, text, visuals and sound. Akram Khan Company's CHOTTO DESH is a hit with audiences and critics alike.
Fusing dance, storytelling, interactive animation and specially composed music, Chotto Desh is a bewitching dance-theatre tale of a young man's dreams and memories from Britain to Bangladesh, created for children and their families to enjoy together.
The first ever family show created by Akram Khan, one of Britain's most respected choreographers and dancers. Chotto Desh is reworked from his Olivier Award-winning autobiographical solo show DESH.
Bengali for 'small homeland', Chotto Desh tells a playful story of a boy who dreams of becoming a dancer, weaving together tales within tales of a son who rebels against the wishes of his father, and of a mythical child who angers the forest gods by collecting their forbidden honey.
Featuring dream-like animations of elephants, crocodiles and swirling clouds of butterflies, as well as a hypnotic musical score composed by Jocelyn Pook, Chotto Desh uses movement storytelling to explore ideas of homeland and identity, our relationships with our parents and our need to forge an individual path through life, with athletic choreography bringing together classical Indian Kathak, ballet and contemporary dance movements.
Akram Khan is one of the UK's most celebrated and influential artists, admired for his unique style of intimate yet epic storytelling. He gained worldwide praise for his creation of part of the London 2012 Olympic Opening Ceremony, and in imaginative but highly accessible productions including Gnosis, zero degrees and Vertical Road, he has collaborated with figures including actress Juliette Binoche, ballerina Sylvie Guillem and visual artists Anish Kapoor and Antony Gormley
Drawing on Khan's own childhood, Chotto Desh has profound messages about the stories and memories we hold dear, for children and adults alike.
For children aged 7+
Springboard's Signature Dance Presentation Series
Springboard presents exceptional and stirring large-scale national and internationally touring dance productions for Calgarians to enjoy. New and ambitious programming to inspire, challenge, and influence the transformative potential of contemporary performance.
Springboard encourages a culturally diverse environment that reflects Calgary audiences and the global dance community. We seek to feature and sustain innovation in the art form, reshaping the artistic landscape with an invaluable commitment to artists and audiences, building robust, educated communities who embrace physical performance. Springboard's Signature Dance Presentation Series supports a globally-connected Calgary where people value and embrace creativity and the arts as essential to an inclusive and vibrant society.