IZM
Izm is a word Crazy Smooth the choreographer says he coined, and put copyright on it so it can't be taken away. What is Izm? To interpret Crazy Smooth's description in the artist's talk last night, it is the place where passion and skill meet. And what it feels like inside when that state of being happens. I would say he's describing that other word that was coined some time ago. Flow. When creative output, mind body and spirit are at one and time disappears and feels endless at the same time. Everybody who has experienced that magical mystical state doing that thing that they love defines it in their own way in their own words. Bboyizm are a talented crew of dancers who perform an energetic show that audiences dig. They've been on the road since September. How do they keep the Izm in their dance when they perform once or twice a day for an audience and not for themselves? Well at least last night, after their show, they got to take in Fluid Festival's Urban Culture Cabaret at the Auburn Saloon – and watch Calgary b-boys and b-girls express themselves on the dance floor. Tara Wilson from Pulse Studios got the crowd including me, up on their feet for an impromptu hip-hop dance lesson. Out of the corner of my eye I saw Crazy Smooth dancing off to the side, and at the same time taking in all the kids. If he was like me he was watching the two teens in the matching baseball shirts. They could not have been more physically different – black and white, big and small - the gentle shy giant and the extroverted sinewy kinetic kid. They performed their act right after we all sat down.
In sync, and deep in the spirit of their chosen passion, they were doing their thing with breathless skill. I feel blessed to have been there in the moment. And I think everyone there would understand what I mean. Audiences provide energy to the performer – yet I don't think I'd be wrong in saying that even if the room were empty of the rest of us – they would be electric. That's Izm, isn't it?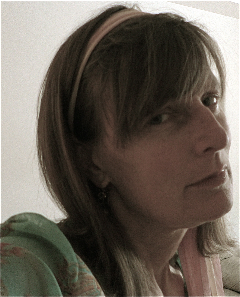 GUEST BLOGGER:Sandra Sawatzky is an artist and filmmaker.