Urban Culture Cabaret
On Thursday evening, evidently the new 'Friday', I ventured downtown to the base of the Calgary Tower where the Fluid Movement Arts Festival was holding the Urban Culture Cabaret at the Auburn Saloon. Behind closed doors of a rather chilly autumn evening was the unexpected warmth that emanated from a community of strangers that came together because of their passion for music, dance, hip-hop and self-expression.
Tara Wilson, creative director of Pulse Studios and guest curator for the cabaret, rallied fresh and young talent to put on a show that made Calgary truly deserve its title of being called the Cultural Capital of Canada. Emcees Jaynova, Rebecca Dawn and Sinczere, three incredibly talented female freestyle rappers engaged the audience and showed off their great work. Other dance performances by Fresh Funk, Tony Tran, Sabrina Naz and Krizia Carlos showcased a raw instinct for movement and blew the crowd away. Also on stage was Legacy One, a crew of dancers, DJ and spoken word artists who typically spend their time performing and holding workshops in the community to empower students to realize their potential. Everyone got to their feet and danced until the lights turned on, all thanks to Freak Motif – an 8+ piece funk music collective that rocked the show.
What I loved the most about the Urban Culture Cabaret was the eclectic mix of people in the room – young and old from all different backgrounds, veteran hip-hop masters to newbies, photographers, musicians, freestylers, DJs and people who just appreciate the goodness that Calgary's arts and culture scene has to offer. Everyone in the room had a part to play in the magic that seemed to transport us from Calgary to the likes of New York. If you still have a chance to check it out – go! You're in for a treat. (And also, be ready to get on your feet because it will be hard to sit still).
GUEST BLOGGER: Mackenzie Chu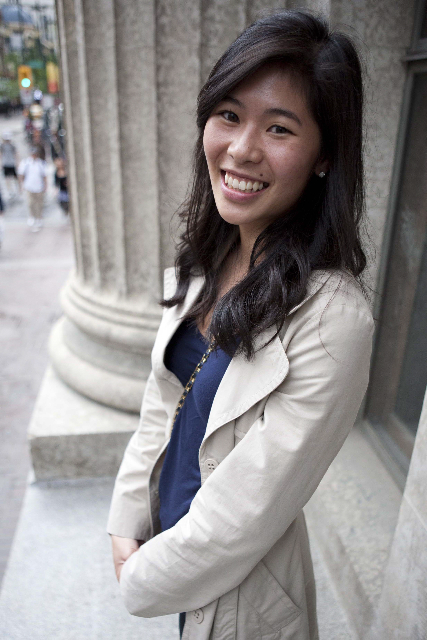 Mackenzie Chu is a local advertising professional who loves seeing peoples" passions and talents expressed in the community